Bay4 Energy Will Manage First Large-Scale Solar Project in S Maui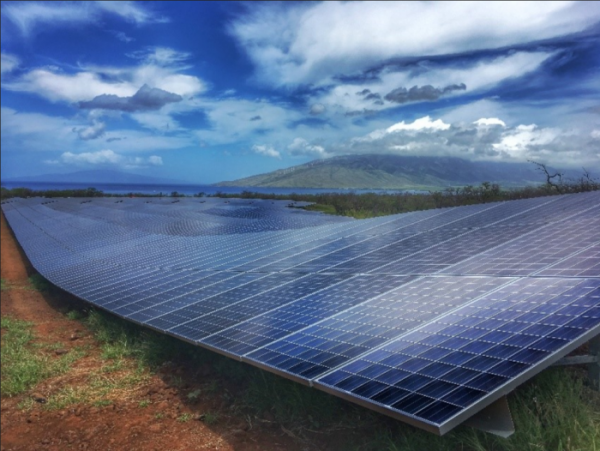 An 11.3-acre photovoltaic solar project located in Haleakalā Ranch pastures came online over the weekend.
The solar project is located on land owned and managed by Haleakalā Ranch Company in pastures mauka of the Pi'ilani Highway near the Maui Research & Technology Park in Kīhei.
Maui Electric Company executives say the project is Maui's first large-scale solar project.  It is buying the power from the independently owned and operated South Maui Renewable Resources project by Kenyon Energy.
The site can offer up to 2.87 megawatts of solar power to Maui Electric's grid at 11.06 cents per kilowatt hour.  Company executives say Maui Electric does not mark up or take a profit from this purchased power, passing the savings directly to Maui customers.
"We are excited to add more renewable energy resources to power our island's homes, schools, and businesses through our new partnership with Kenyon Energy and our continued partnership with Haleakala Ranch Company," said Sharon Suzuki, president of Maui Electric. "Such partnerships are a key component in our efforts to reach 100 percent renewable energy for our islands. By working together on this ambitious goal, we're securing long-term affordable clean energy for all of our customers, reducing the island's use of imported fossil fuel, and maintaining safe and reliable electrical service our growing communities depend on."
Financing for Kenyon Energy's South Maui project was provided by Key Equipment Finance through its Energy Solutions team.
"Kenyon Energy is very pleased to partner with Maui Electric on this groundbreaking solar energy project," said Clay Biddinger, chairman and chief executive officer of Kenyon Energy. "This project is creating tangible economic and environmental benefits for Maui's citizens and local businesses. We are working hard to continue to develop and operate renewable energy projects similar to this throughout Hawai'i, including the acquisition of renewable energy projects from other solar partners."
Maui Electric will also be purchasing power from another Kenyon Energy project, Ku'ia Solar in West Maui, when the 2.87-MW project comes online later in May.
Currently, Maui County has a renewable energy portfolio of 34 percent – ahead of the state's target of 30 percent renewable energy by 2020. On some days, a significant portion of the electricity used on Maui comes from large grid-scale and privately-owned renewables, such as wind, hydro, biofuels, and nearly 12,000 rooftop solar systems. Last June, Maui Electric reached a peak of 77 percent of its power coming from renewable energy resources.
Providing power to nearly 70,000 customers on Maui, Moloka'i and Lāna'i, Maui Electric continues to support Maui Nui's evolving and growing energy landscape since 1921. Today, Maui Electric, along with the Hawaiian Electric and Hawai'i Electric Light family of companies, is working to provide more reliable, clean and affordable energy to power the islands.
As Maui's largest and oldest family-owned ranch, Haleakalā Ranch Company is committed to stewardship of the island's land, water and other precious resources such as renewable energy.
Kenyon Energy is a leading developer, owner and operator of solar energy projects in the United States. Kenyon Energy takes great pride in providing excellent customer service, while developing cost-effective, turnkey, and creative solar energy solutions for a diverse set of customers, including utilities, municipalities, schools and universities, federal and state government facilities, small and large industrial facilities, and Fortune 500 companies.
Kenyon's parent/owner is Sun Financial, a long-term owner and operator of solar power facilities acquiring both new and existing facilities typically under Power Purchase Agreements. Ongoing maintenance and operations of the facility will be managed by Bay4 Energy Services, which offers a comprehensive suite of energy and asset performance management services.
Key Equipment Finance is one of the nation's largest bank-held equipment finance companies and an affiliate of KeyCorp (NYSE: KEY). The company provides tailored equipment lease and finance solutions for commercial clients and government entities.